Portfolio
These are some of my client sites and descriptions of the projects that I have worked on.
---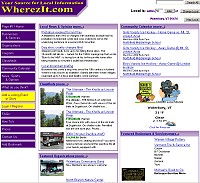 WherezIt.com
Rene is currently working full-time on the WherezIt.com site to develop a comprehensive source of local information online.
Most sites with a "local" aspect force the user into a definition of local of the site's choosing. County, city, even statewide are common. WherezIt.com's unique technology allows the user to define what they consider to be local, depending no what they are doing at the time. If you are looking for a used car, local may be 30 or 50 miles. If you are looking for a pizza, local is probably only 5 miles.
---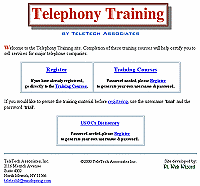 TelephonyTraining.com is an online training website for the telephone industry. It covers both voice (central office switches and their associated functions) and data (xDSL, ISDN, FrameRelay, etc.) functionality. Clients of this site include AT&T, Verison and Cablevision.
We built this site from the ground up and are still modifying it to suit the changing needs of the clients. The site presents training material in both HTML and Flash to the students. Quizzes are presented at the end of each chapter and longer certification tests are given at the end of each course. Students must register and the end clients are billed with each test given. Instructors and Human Resources at each of the client companies are notified as to which students have registered, taken tests and what their scores were.
---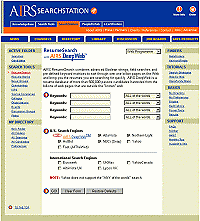 AIRS (Advanced Internet Recruitment Strategies) hired us to develop a resume search engine. At it's core is a meta-search engine that quickly searches multiple search engines for online resumes. This meta-search was eventually expanded to handle over 30 different search engines. In addition to the meta-search, users could save their commonly used searches to repeat at later dates and store lists of resumes that were appropriate for the position that they were recruiting for.
Alas, it appears that their website is no longer operative. With the downturn in the economy around 2000, the job recruiter market dryed up along with all of the jobs.

---
This custom Flash splash page introduced several training courses for AT&T. The training courses were originally written by the instructors in PowerPoint, we converted them to Flash, added some basic animations to the courses to help keep student interest and subcontracted with a voice actor to provide the narration.
Presenting the training courses online allows AT&T to greatly reduce the cost of their ongoing employee training.
---
We have worked with Oracle Magazine on several occasions, assisting in major revamps of their website design. The archived articles from their magazines, along with the frequent Oracle Tips columns comprise some 3000+ pages of HTML. Converting that manually would be a major undertaking so we developed several Perl scripts that automated 90+% of the work.
These Perl scripts would parse the HTML, strip out the old navigation links and insert the new ones from the templates designed by Oracle's web developers.
---
CelebrityAccess is a large database of information about actors, performers, lecturers and other celebrities. Among other things it includes their rates, agent phone numbers, other contact information and even a short biography. This information is vital to booking agents, tour promoters and reporters covering the celebrity beat.
We were initially contacted by CelebrityAccess to do an emergency performance fix just before a trade show. After speeding up their database searches by 400%, this evolved into a long-term contract involving database maintaince, software upgrades and other database programming.